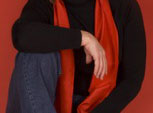 Sally Andersen-Bruce
For more than 20 years, Andersen-Bruce's images
have appeared in magazines, books, packages and
annual reports.
Her portrait work takes her on many international
assignments. For three years she lived in Asia and
managed a corporate photo studio.
One of the greatest honors of her career has been
working with the United States Postal Service on stamp
projects. It has given her the opportunity to go behind
the scenes with curators and experts in the finest
American institutions.
United States Postal Service Projects

Weather Vanes, January 20, 2012
Pioneers of American Industrial Design, June 29, 2011
Adopt a Shelter Pet, April 30, 2010 (Voted most popular stamps 2010)
Holiday Nutcrackers, October 23, 2008
Charles and Ray Eames, June 17, 2008
Holiday Cookies, October 20, 2005
Holiday Ornaments, November 16, 2004
Holiday Snowmen, October 28, 2002
Holiday Greetings Card, October 28, 2002
Neuter / Spay, September 20, 2002
Antique Toys, July 26, 2002 (Over 5 Billion Sold)
Classic American Dolls, July 27, 1997
She is currently completing two books of portraits and stories:

Shelter Pets-Dogs
Shelter Pets-Cats